Fondry des Chiens
Stroll through unknown lands
All year round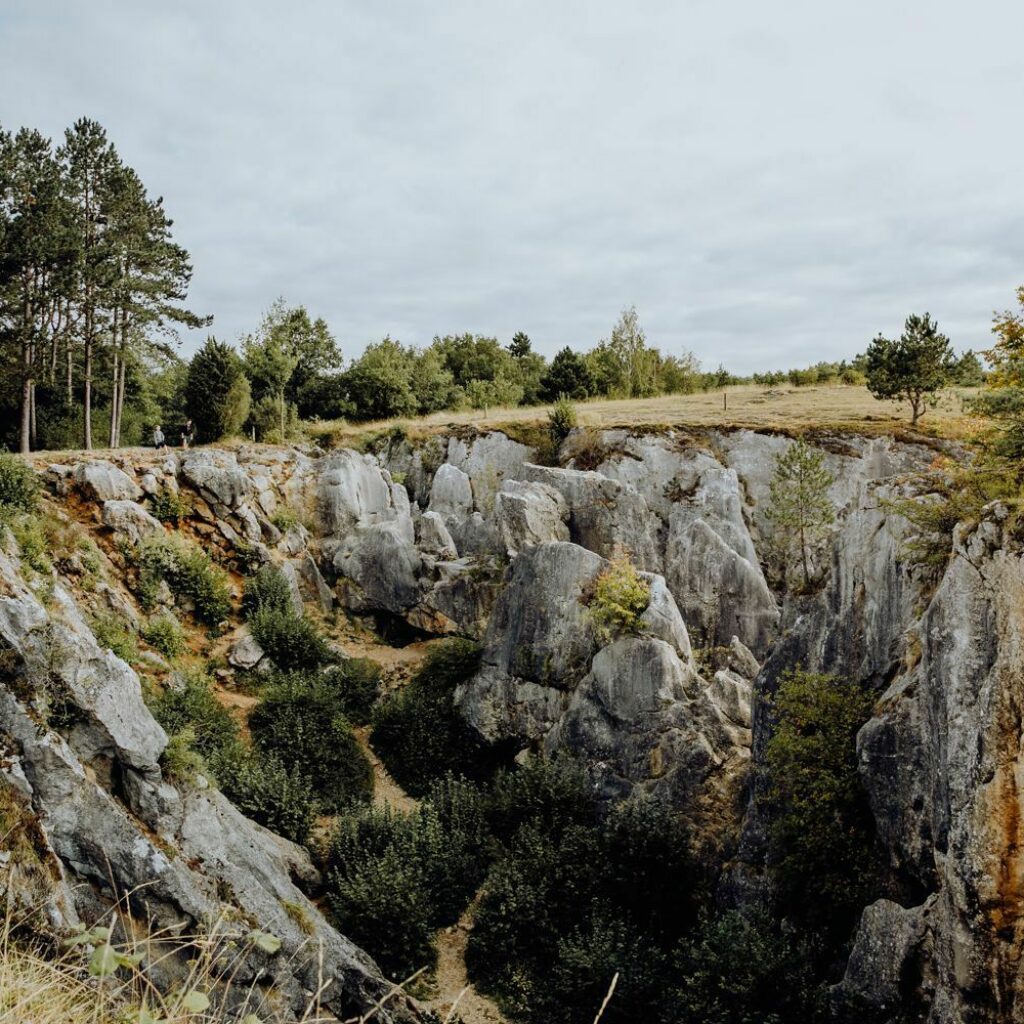 This natural site is very impressive for the region: imagine a chasm, which has some areas that are more than 20 metres deep, covered with rocks and grass, surrounded by trees and offering stunning views of the Calestienne region. It's very simple: you're travelling through a landscape that's one of a kind.
Visit one of the most beautiful natural sites in Belgium
The site can be reached by car, via a small country road. The car park is a few metres away. Once you've parked, walk a few metres and discover a stunning chasm from the top of the cliffs.
Here's a fun tip: bring some friends who have never heard of this place and surprise them. They are often shocked and do not expect this at all!
You can walk around freely on-site. You just have to be careful in some places. The ground can be slippery, especially when it's raining. You can travel to the bottom of the chasm and walk around to your heart's content. You can even stroll between the rocks.
When the weather is good, you can relax on the limestone lawn, which is typical of the region, and enjoy a meal. There are picnic tables in the woods next to the car park.
Activities for exploring biodiversity
The limestone-rich soil has caused special vegetation to grow all around the chasm, and particularly in these areas. The ground heats up faster and almost gives the impression of the south of France. Beautiful flowers bloom at certain times of the year, such as orchids in the spring.
Other species, such as butterflies or birds, fly over the site.
Walking routes
Several walking routes pass through this iconic site.
In particular, certain hikes leave from the tourism office in Nismes. We like the yellow trail, known as 'La roche aux Faucons', which passes through the Fondry des Chiens. The route is 7.5 kilometres long.
The red route starts at the church in Nismes and takes you to the Fondry des Chiens. It spans four kilometres and is easy for children.
A train ride with the kids
Another nice way to explore: the tourist train. This is a popular form of transport with kids. It passes through the village and takes you to the Fondry des Chiens.
Don't forget to bring your camera or phone when you visit. A shot of the Fondry des Chiens is a big hit on Instagram.
Are you ready to make the trip?